Rent A Cabin In Show Low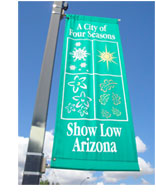 Show Low is a city in Navajo County, Arizona, United States. It lies on the Mogollon Rim in east central Arizona, at an elevation of 6,400 feet (1,951 m). The city was established in 1870 and incorporated in 1953. According to 2007 Census Bureau estimates, the population was 11,763.
According to the legend, the city was named after a marathon poker game between C.E. Cooley and Marion Clark. The two men decided there was not enough room for both of them in their settlement. The two men agreed to let a game of cards decide who was to move. According to the tale, Clark said, "If you can show low, you win." Cooley turned up the deuce of clubs (the lowest possible card) and replied, "Show low it is." The stakes were a 100,000-acre (400 km²) ranch. Show Low's main street is named "Deuce of Clubs" in remembrance.
Another belief about the name is that the two men were in a race for mayor and the vote ended in a tie. The agreement was to open a fresh deck of cards, shuffle them and on the flip of a coin, begin taking turns flipping the cards until one turned over the deuce of clubs, making Cooley the first mayor and the name of the town.


Climate In Show Low, Arizona
Winters in Show Low bring highs between 45°F (7°C) and 55°F (13°C), with lows usually below freezing between November and March, averaging in the 20s December through February, and in the low 30s for November and March.
In the summer, highs in Show Low average approximately 85°F (29°C), with an occasional day above 90°F (32°C) not uncommon for the city. As the sun sets in the summertime, temperatures plummet dramatically, sometimes upwards of 30 degrees. This nightly temperature swing results in summertime lows typically ranging between 50°F (10°C) and 60°F (16°C).
Show Low has reached below-freezing temperatures every month at least once in its history except July and August, where temperatures have only reached 38°F (3°C) and 37°F (3°C) respectively.
Show Low has twice reached 100°F (38°C), its record high temperature: once on May 31, 1969, and again on July 14, 2003. Show Low's record low temperature of -25°F (-32°C) was set on January 8, 1971.
Show Low averages about 18.3 inches of rain per year.
Average high and low temperatures by month and average precipitation are set out below:
| | | | |
| --- | --- | --- | --- |
| Month | Average High | Average Low | Average Precipitation |
| January | 48° F | 17° F | 0.6 in |
| February | 54° F | 21° F | 0.6 in |
| March | 59° F | 25° F | 1.0 in |
| April | 68° F | 31° F | 0.4 in |
| May | 76° F | 38° F | 0.5 in |
| June | 86° F | 46° F | 0.3 in |
| July | 89° F | 56° F | 2.1 in |
| August | 87° F | 54° F | 2.5 in |
| September | 81° F | 47° F | 1.6 in |
| October | 71° F | 35° F | 1.2 in |
| November | 59° F | 25° F | 0.8 in |
| December | 49° F | 18° F | 1.0 in |