One day in 1875 Cooley and Marion Clark, another resident, decided that the tiny settlement along the Mormon Creek was too small for both of them. One of them had to move out. It was agreed that they would play the card game Seven-up to decide which of them would have to go. At the very end of the game, with only one point needed to win. Clark said to Cooley, "If you can show low, you win." Cooley threw down his card. It was the deuce of clubs. Cooley said, "Show low it is." The story goes on to say that Clark did move out. He packed up his things and headed down the road a bit to the community of Pinetop, where he lived for many years.
The town even has its main street named after this historical event. It is called the "Deuce of Clubs". Today Show Low has a strong tourist and recreation base. The forest industry is another strong economic force. The town also serves as a trade center for southern Navajo County and part of southern Apache County.
Incorporated in 1953, and located at an elevation of 6,412 feet, Show Low sits in the largest stand of Ponderosa Pine in the United States. It is 175 miles northeast of Phoenix and 195 miles north of Tucson. Show Low offers panoramic views, good fishing in mountain lakes and streams, and miles of wilderness for hiking, camping, cycling, horseback riding and downhill and cross-country skiing. It also features unique shops and fine art, as well as casual dining at many restaurants.
Winters in Show Low bring highs between 45°F (7°C) and 55°F (13°C), with lows usually below freezing between November and March, averaging in the 20s December through February, and in the low 30s for November and March.
In the summer, highs in Show Low average approximately 85°F (29°C), with an occasional day above 90°F (32°C) not uncommon for the city. As the sun sets in the summertime, temperatures plummet dramatically, sometimes upwards of 30 degrees. This nightly temperature swing results in summertime lows typically ranging between 50°F (10°C) and 60°F (16°C).
Show Low has reached below-freezing temperatures every month at least once in its history except July and August, where temperatures have only reached 38°F (3°C) and 37°F (3°C) respectively.
Show Low has twice reached 100°F (38°C), its record high temperature: once on May 31, 1969, and again on July 14, 2003. Show Low's record low temperature of -25°F (-32°C) was set on January 8, 1971.
Show Low averages about 18.3 inches of rain per year.
[ top ]
Demographics of Show Low
As of the census of 2000, there were 7,695 people, 2,885 households, and 2,117 families residing in the city. The population density was 859 people per square mile (106.6/km²). There were 7186 housing units at an average density of 155.7/sq mi (60.1/km²). The racial makeup of the city was 90.3% White, 0.4% Black or African American, 3.2% Native American, 0.5% Asian, 0.1% Pacific Islander, 3.4% from other races, and 2.2% from two or more races. 9.4% of the population were Hispanic or Latino of any race.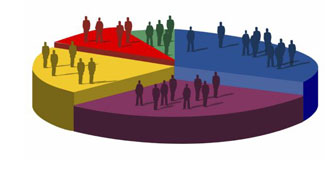 There were 2,885 households out of which 34.8% had children under the age of 18 living with them, 58.2% were married couples living together, 11.1% had a female householder with no husband present, and 26.6% were non-families. 21.9% of all households were made up of individuals and 9.5% had someone living alone who was 65 years of age or older. The average household size was 2.62 and the average family size was 3.04.
In the city the population was spread out with 29.2% under the age of 18, 7.4% from 18 to 24, 24.9% from 25 to 44, 23.5% from 45 to 64, and 15.0% who were 65 years of age or older. The median age was 37 years. For every 100 females there were 95.1 males. For every 100 females age 18 and over, there were 88.5 males.
The median income for a household in the city was $32,356, and the median income for a family was $36,397. Males had a median income of $28,882 versus $24,590 for females. The per capita income for the city was $15,536. About 11.7% of families and 15.0% of the population were below the poverty line, including 23.6% of those under age 18 and 6.0% of those age 65 or over.
[ top ]