Amenities In Show Low, Arizona
The City of Show Low, Arizona has plenty of amenities to help make your stay in Show Low a pleasant and relaxing vacation. Cultural and entertainment events are various and numerous, including local farmers markets, mountain bike races, symphony orchestra performances, fashion shows, community picnics, Forest Service presentations, fundraising dinners, dirt-track racing, golf tournaments, bake sales, gun shows, art shows, rodeos, gem and mineral expositions, car shows, community dances, ice cream socials, parades and concerts.
If you're looking for amenities while you are staying in Show Low, look no further than the below assembled list.
Where To Stay In Show Low

Torreon Luxury, 4000 Sq Ft on Golf Course/Creek, 5 Fireplaces, 4 Bedrooms + Loft + Den, 3 Baths (Sleeps 10) - WOW!!! Truly a very Unique and Luxurious Cabin with a natural and old theme. There is even a Large Real Tree Inside, supporting the stairs, a Huge 30' glass door opens to a large wood deck right by the 1st hole of the Golf Course and has a Babbling Brook running by. The setting is Spectacular with Unbelievable Near and Distant Views.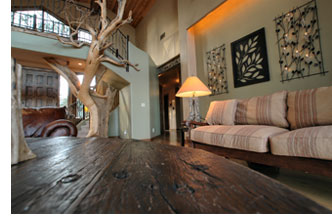 Nothing was spared in the building of this newly completed luxury vacation home currently valued around $2 Million. There are 5 Fire Places, 1 of these is strategically located in the master bath between the Master Jacuzzi Tub & Walk in Shower which has 10 shower heads! There are 2 BBQ Grills, 1 by the Creek & 1 BBQ Grill upstairs on the deck where you feel like you are sitting in a tree house, with a fireplace. It's great for viewing the stars! The Cabin and the Landscaping were specifically designed to appear to have been there for many, many years. We even used 200+ Year Old Wood Beams throughout the interior for that rustic old world blend with modern luxuries.
The views from every room in the cabin is spectacular and our lot has been referred to as one of if not the best lots in all of Torreon. The cabin has been specifically designed and laid out in order to take advantage of all of the views and looking across the Golf Course you will see a lake, a bridge and the 1st hole past the sand pit in the distance. This beautiful setting is framed by the view of millions of trees for miles and miles blocking the view of any other cabins behind us.
The cabin is fully supplied and loaded with the latest appliances and a well stocked kitchen. There are also many games, both children and adults located in the cozy den with a truly unique ceiling. There's even a secret play room upstairs with chalk and magnetic walls as well as another secret hidden room for your kids to find downstairs….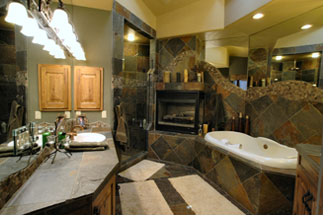 During the summer the babbling creek right next to the cabin is a running natural aquarium. Children love to wade in the creek and catch Crawl Dads, Frogs, Water Bugs and more, plus there's always the fun of exploring and walking across the creek on the logs or jumping from rock to rock.
The evenings are great time to play games, take walks or just roll down the hills on the golf course. Be sure to try the upstairs patio and watching all of the Shooting Stars go by or simply enjoy the peaceful night sounds with the gentle sound of the creek in the background while enjoying the fireplace and maybe barbecuing at the same time.
During the winter months when the hills and trees are covered in snow you will find that some of the best sledding around is right outside our cabin. If the conditions are right you can go so far that you will have to stop yourself before you go into the lake!!!! There is plenty of room to make Snow Angels and Snow Men and to hang your wet clothes right in the garage before you come inside and make S'Mores and Roast Marshmallows over the fireplace by the kitchen and sip Hot Chocolate! Of course, World Class Skiing is only about 40 minutes away.

There is so many great things to do and experience, but our favorite thing is simply to Relax, Slow Down and enjoy in the Cool Pines and Fresh Air….
Most of all…. Have A Great Time!!!!
Email Owner To Reserve This Cabin
[ top ]
Places To Eat In Show Low
[ top ]
Shopping In Show Low
A small fact many do not know is Show Low, Arizona was thh first city to acquire a Walmart Supercenter in the State of Arizona. With a wide variety of small shops ranging from specialty items to western apparel, a short drive you will provide you with everything you need to enjoy your stay on your Show Low vacation.
AutoZone
(928) 532-8389
204 E. Deuce Of Clubs Hwy
Show Low, AZ 85901
JC Penney
(928) 537-9332
4481 S. White Mountain Rd #5
Show Low, AZ 85901
Kmart
(928) 537-3192
750 West Deuce of Clubs
Show Low, AZ 85901
Walmart
(928) 537-3141
5401 South White Mountain Road
Show Low, AZ 85901
Big 5 Sporting Goods
(928) 537-5551
4441 South White Mountain Road
Show Low, AZ 85901
Fashion Bug
(928) 537-8489
4401 So White Mtn Rd
Show Low, AZ 85901
Payless Shoe Source
(928) 537-8662
4431 South White Mountain Road
Show Low, AZ 85901
Home Depot
(928) 532-1552
5601 South White Mountain Road
Show Low, AZ 85901
Ace Hardware
(928) 537-5443
221 W Deuce Of Clubs
Show Low, AZ 85901
Hemut the Jeweler
(928) 532-4454
100 N White Mountain Rd # 105
Show Low, AZ 85901
[ top ]
Gas Stations In Show Low
Show Low, Arizona is the tourism hub of the White Mountains, located 175 miles northeast of Phoenix and 195 miles north of Tucson. Situated in southern Navajo County, Show Low offers championship golf courses for both leisure players and serious golfers.
Circle K
(928) 537-7880
1600 West Deuce of Clubs
Show Low, AZ 85901
Mustang Conoco
(928) 537-2370
41981 East Deuce of Clubs
Show Low, AZ 85901
Giant
(928) 537-3452
1790 South White Mountain Road
Show Low, AZ 85901
Cluff's Quik Stop
(928) 537-5916
6934 Arizona Highway 260
Show Low, AZ 85901
[ top ]
Airport In Show Low
Located one mile east of Show Low, the Airport boasts two runways with parallel and connecting taxiways, a modern 6,400-square-foot terminal building, short and long-term vehicle parking lots, and three aircraft parking ramps.
Runway 6-24 is 100 feet wide by 7,200 feet long. This runway has a weight-bearing capacity of 60,000 pounds for dual-wheel, main gear aircraft. Aircraft as large as Canadair Challengers and all series of Gulfstream and Lear jets can easily be accommodated.
Runway 3-21 is 3,920 feet long by 60 feet wide, with a weight-bearing capacity of 12,500 pounds. Equipped with runway edge reflectors, this runway is used frequently as the crosswind runway. This runway provides easy access to all parking ramps and is directly adjacent to the south general aviation ramp hangar area.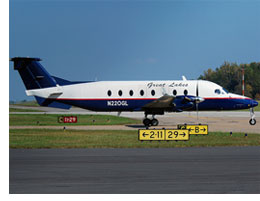 Great Lakes Airlines - Great Lakes Airlines is located in the center of the terminal building offering scheduled airline service between Show Low, Phoenix, Farmington and Denver seven days per week with roundtrip flights daily, call (800) 554-5111 or (928)532-1009 for details.
Utilizing a twin-engine Beech-1900 pressurized aircraft, passengers can fly one-way to Phoenix in less than 40 minutes and to Denver in a little over two hours with a short stop in Farmington. Great Lakes is a code-share partner with United and Frontier Airlines and from Phoenix or Denver, passengers can connect to any of the major airlines operating from these airports. Flights operating out of Phoenix and Denver connect to cities across the United States as well as to European and Far East destinations.
For more information, visit Great Lakes Airlines website.
[ top ]